Information for Manufacturers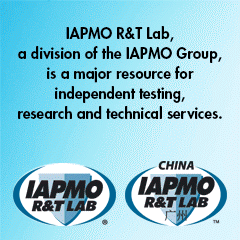 Voluntary Independent Testing
MaP testing is voluntary. If you participate as a manufacturer, please understand our procedures and methodologies that apply to MaP, and the listing (posting) process for the test results.
Control Over Published Data
MaP listings on this website cover the physical characteristics and MaP performance score of each fixture. After testing, the manufacturer determines whether or not information will be published. [View MaP terms, conditions and listing cost]
Simple Testing Procedures
WHERE TO PURCHASE THE SOYBEAN PASTE TEST MEDIA?
MaP toilet test media comes in two forms – cased and uncased.  Cased media is sold in kits; each kit contains 40 test specimens with each specimen having a mass of 50 grams.  Uncased media is sold in "bulk" in 20kg (44 pound) pails.
Cased Media Kit: 40 pcs at 50 grams each:  $550 USD
Uncased Media:  20kg pail:  $200 USD
Freight, brokerage fees, and wire transfer fees, if applicable, are extra
To puchase the test media (cased or uncased), contact:
Gauley Associates, Ltd.
Acton, Ontario, Canada
Bill Gauley:  bill@gauley.ca
Office: 416-677-6193